Ultra Custom Symm Gaming Mouse
Select Base Mouse
Black
Solid Black
White
Solid White
Choose Your Colors
Button Cover
Top Cover Shell
Additional color shells are sold as sets
1 button cover, 1 honeycomb top shell and 1 solid top shell
Ultra Custom Weight
61g to 87g
No Tool Customization
Customize Your Mouse Quick and Easy
Lag Free Experience
1000Hz Polling Rate
Pure Aim Technology
Precision 1:1 Tracking
Symmetric Design
Custom Weight Distribution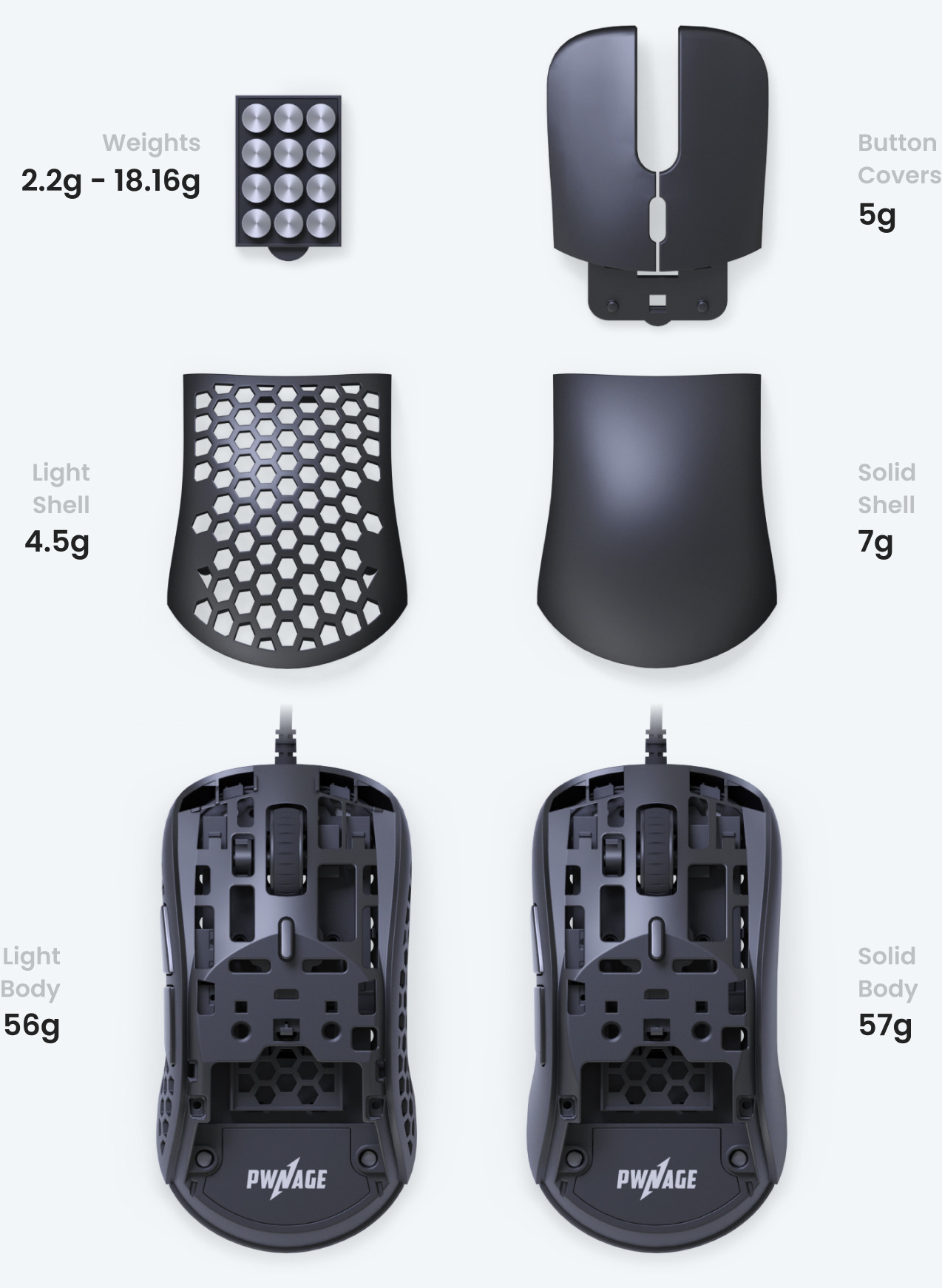 Built for Precision.
The Ultra Custom has been engineered for performance and customization. Easily customize your mouse without the need for any tools. Get Ultra Custom weight down to as low as 68g.
Honeycomb body. No Cover.
100% PTFE Skates
Virgin PTFE Skates with custom rounded edges are optimized for buttery smooth glide and movement control.
Lightweight Paracord Cable
FCC compliant ultra flexible paracord cable.
Mouse for you.
The Ultra Custom was designed to be easily customizable to match your gaming setup, play style, and preference.
No Tool Required.
Simply swap out and replace covers and DPI button
For different user grips.
Different top shells to suit your grip style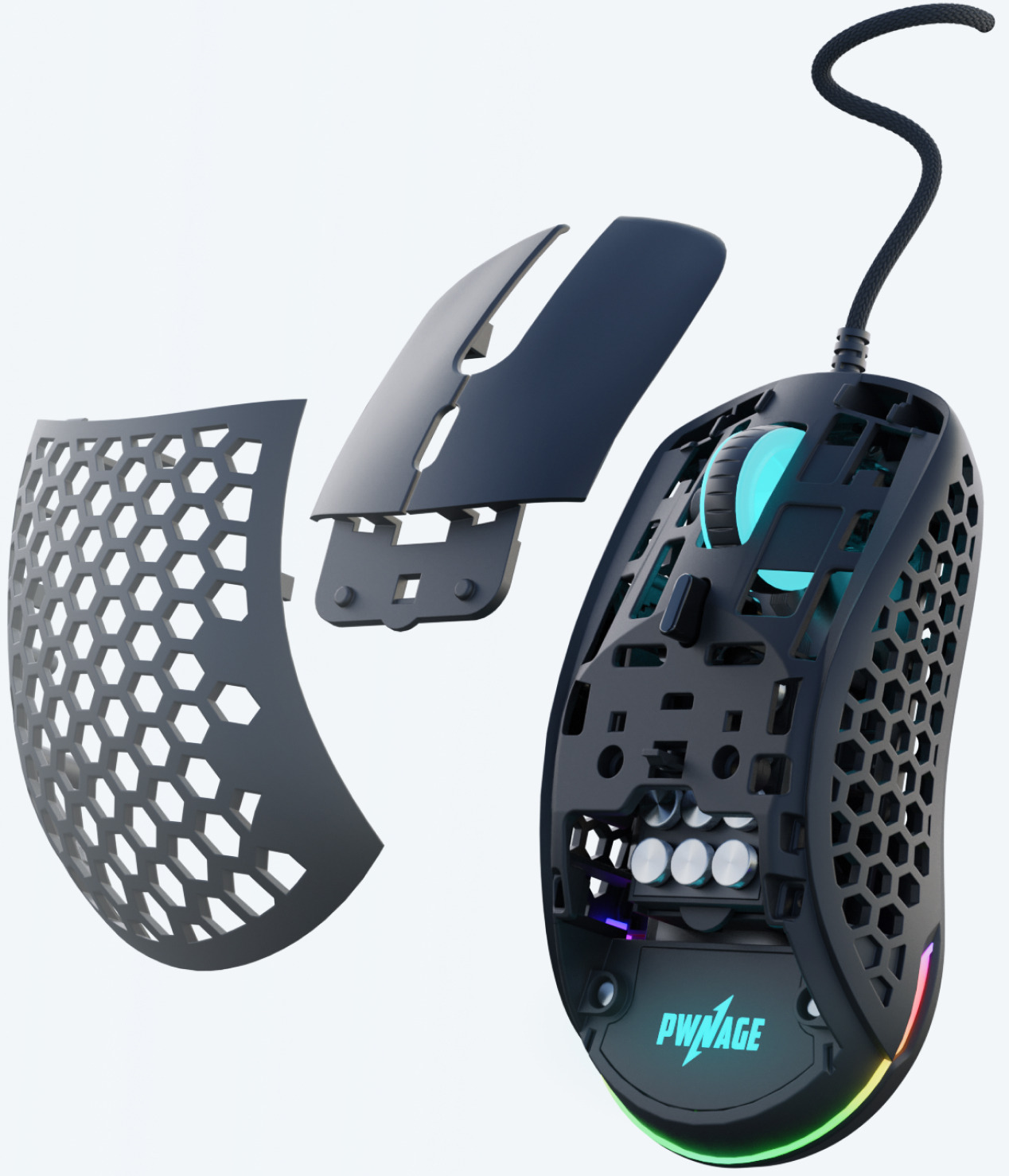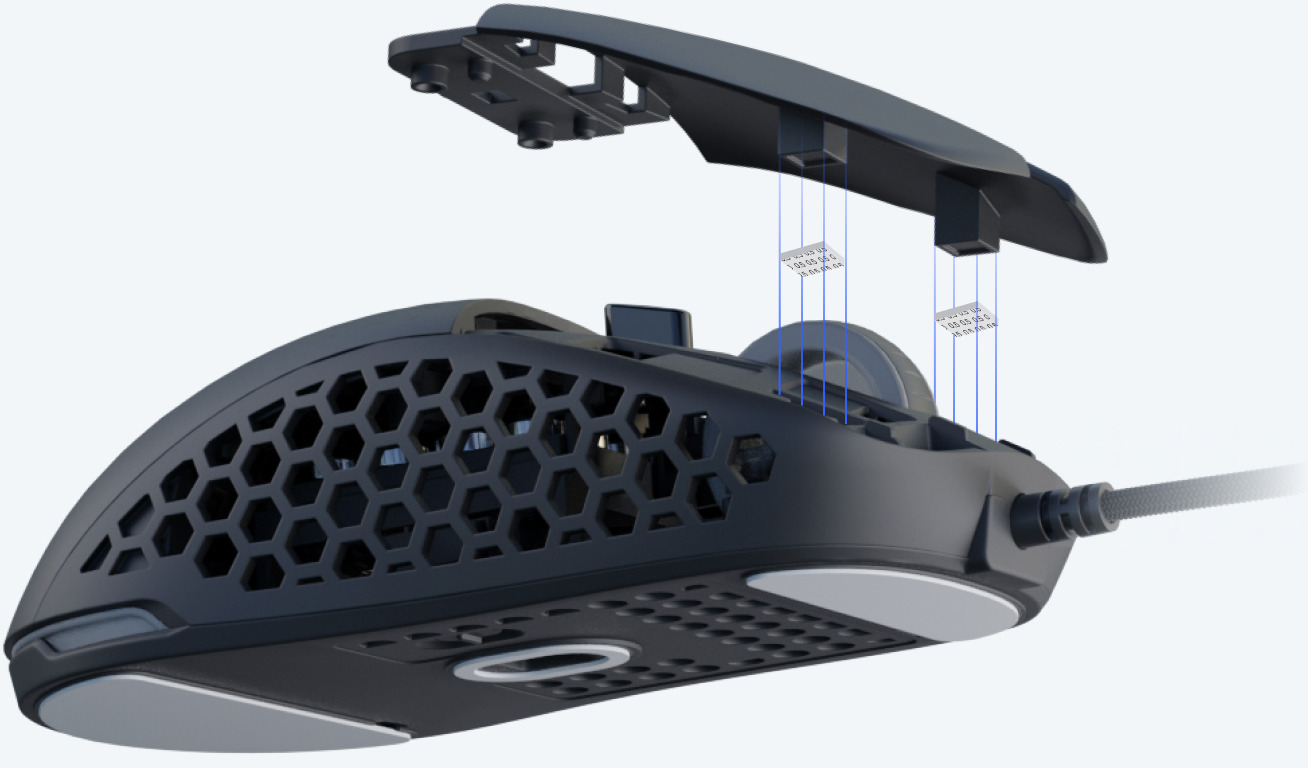 Button Spacers
Customize the softness of the buttons click. All spacers are included.
---
---
---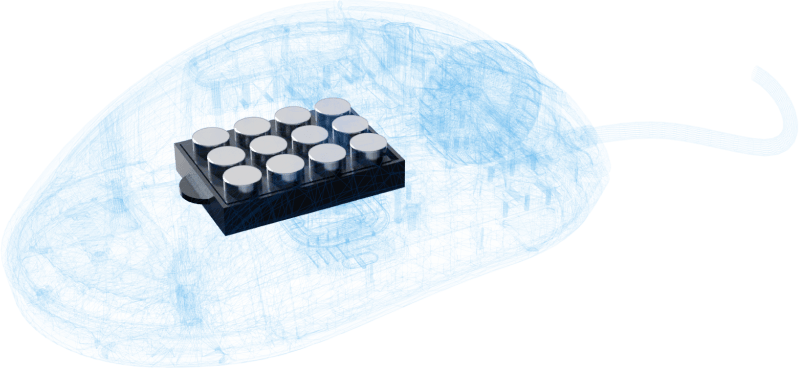 Customizable Weight System
The Ultra Custom Wired Symm allows for precise weight and balance adjustment. Fully tune and optimize the mouse to your preference.


From Ultra Light
to Balanced & Heavy
Easily adjust the weight and balance of the Ultra Custom with the 12 weight slots. From 58g to 83g.












Number of Weights
Total Mouse Weight
=
...
g
...
oz
Drivers Download.
Further customize and unlock the full potential of your Ultra Custom by downloading the software.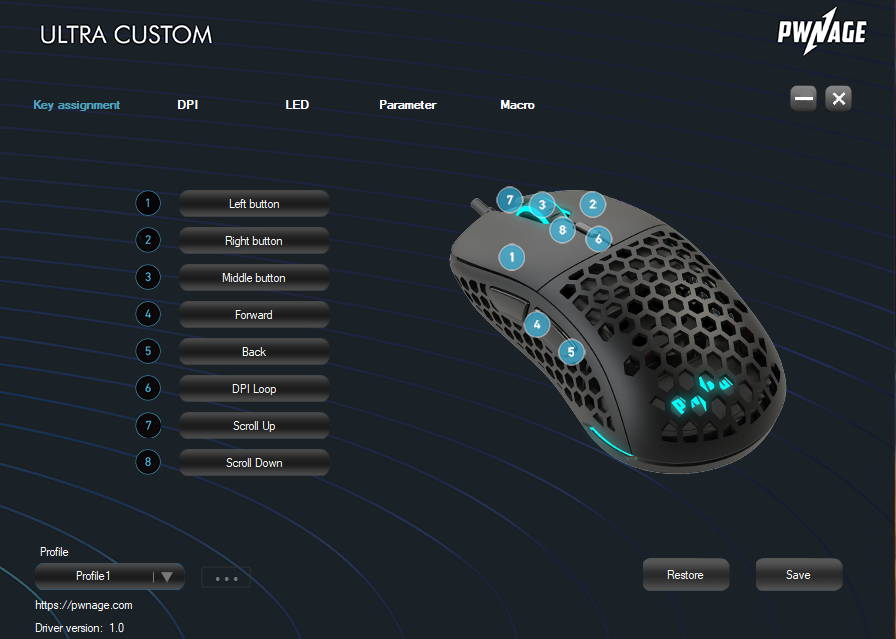 Physical Specifications


Matte coating
Height: 120 mm
Width: 60 mm
Depth: 38 mm
Weight: 61 - 87g
Tracking


Sensor: pmw 3389 Optical
Resolution: 200 - 16000 DPI
Zero smoothing/acceleration/filtering
Max. Tracking Speed: 50 G
Max. Speed: 400 IPS
Connection


Wired
Polling Rate in HZ: 125 / 500 / 1000
Paracord Flexible Cable
Cable Length: 1.8 m
Other Features


Switch Kailh GM 8.0
RGB Lighting
6 Buttons
100% PTFE Feet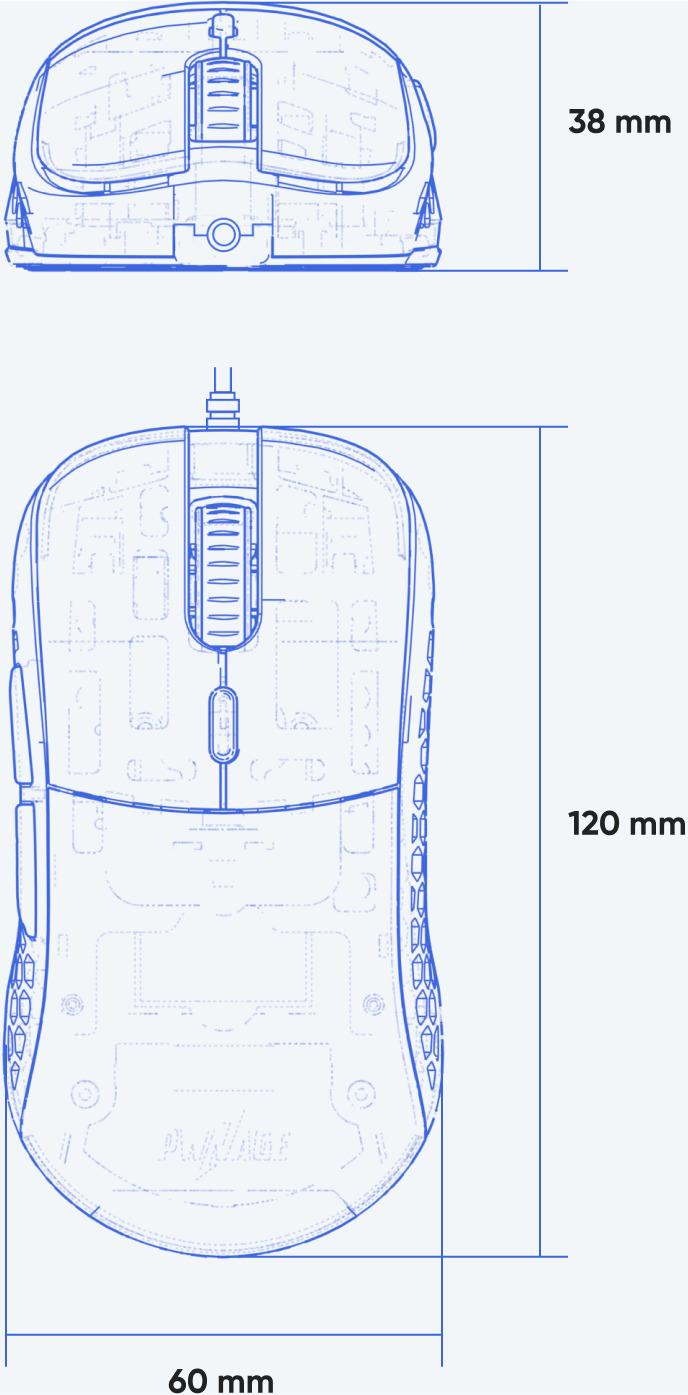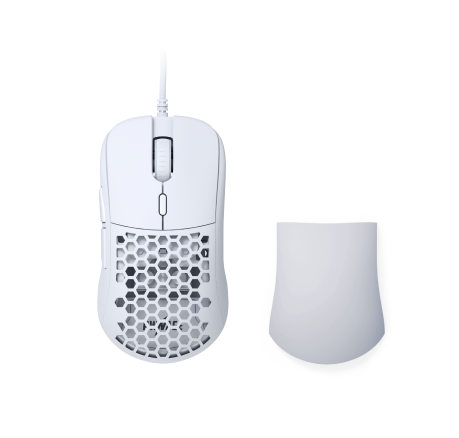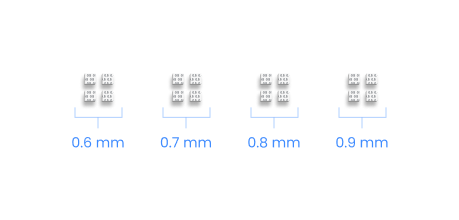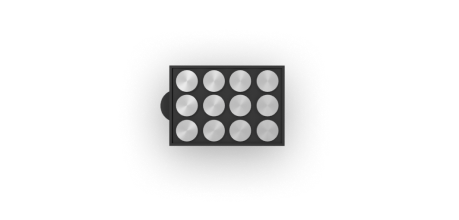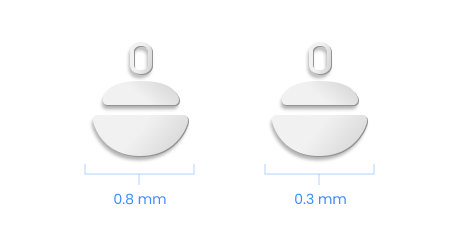 0.8mm Thickness and 0.3mm Thickness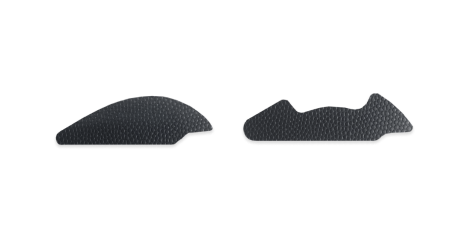 Documentation
User Manual
Safety Instructions
Return Policy
30 day money back guarantee
100% Satisfaction Guarantee
12 Month Warranty. All items won from the lucky box are final sale.
Contact Us
If you have any questions or need support contact us
Fast Shipping
Once shipped, orders usually take 1-4 business days to arrive in the US and 5-10 days for international